Are you nutty for Valentine's Day? Do you hate it? Don't care? I could take it or leave it. There are no pink or red or sparkly decorations in our house, though Clarissa and Veronica surprised me with pink flowers on Sunday night. Steve and I won't be going on a fancy date (unless he's got a secret up his sleeve). In fact, my plan for tomorrow is to do a thorough house cleaning and a lot of laundry. Woo!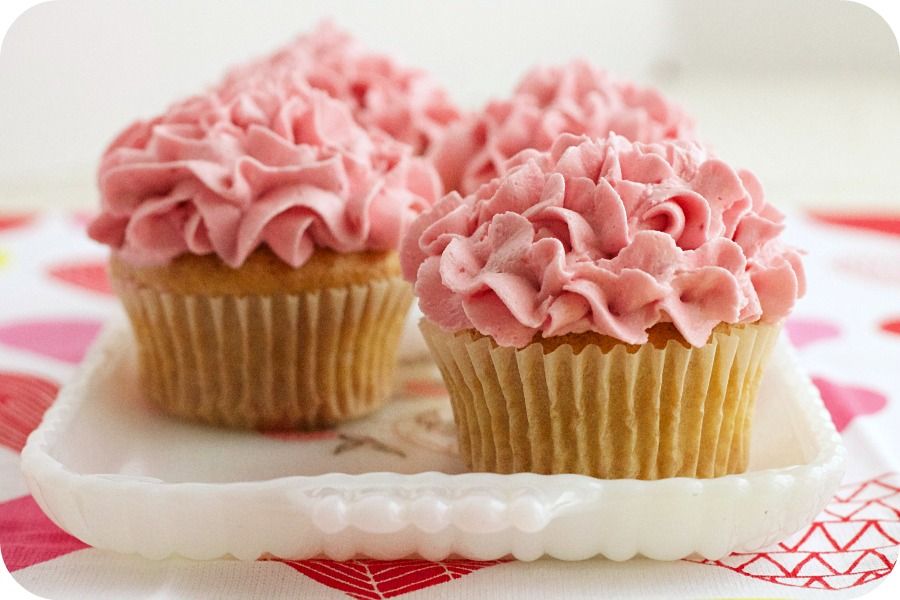 While we don't make a big deal out of Valentine's Day, I won't complain about festive Valentine's treats. So I made some yummy, vanilla cupcakes. And I topped those cupcakes with the fluffiest, vegan buttercream. I flavored the buttercream with raspberry puree, which gives it a pretty pink color. These cupcakes are a perfect treat for February 14th.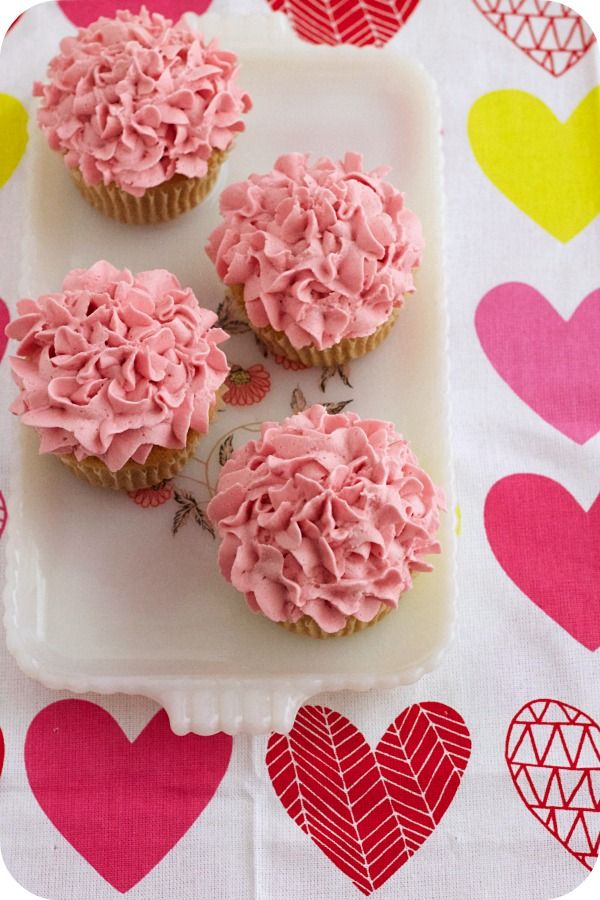 Please forgive the wonky piping I did on these cupcakes. I don't have the right piping tips for frosting cupcakes. Not to mention that I'm not good at piping frosting, anyway. I bet your cupcakes will be much prettier than mine.
Vanilla Cupcakes with Raspberry Buttercream
2014-02-13 13:31:41
A lightly sweet vanilla cupcake with fluffy, raspberry buttercream, and optional chocolate-raspberry filling.
For the Cupcakes
1 cup vanilla non-dairy milk
1/3 cup non-dairy sour cream
1 tbsp canola oil
1 tbsp vanilla extract
2 cups all purpose flour
1 1/4 cups granulated sugar
1/2 tsp baking soda
1/2 tsp baking powder
1/4 tsp salt
For the Raspberry Buttercream
1/2 cup room temperature, vegan butter
1/2 cup non-hydrogenated vegetable shortening
4 cups un-sifted powdered sugar, divided
3 tbsp raspberry puree*
1 tsp vanilla extract
pinch of salt
Make the Cupcakes
1. Preheat oven to 350 degrees. Line a cupcake tin with 12 cupcake papers.
2. In a large mixing bowl, vigorously whisk together the milk, sour cream, oil, and vanilla.
3. In a medium sized mixing bowl, stir the flour, sugar, baking soda, baking powder, and salt together.
4. Use a wooden spoon or rubber spatula to gently stir the dry ingredients into the wet ingredients. Stir until the ingredients are well incorporated, but do not over mix.
5. Divide the batter among the 12 cupcake papers. Bake for about 30 minutes, or until risen, golden brown, and a knife inserted into the center comes out clean.
6. Allow the cupcakes to cool completely, before frosting.
Make the Raspberry Buttercream
1. Using an electric mixer (a stand mixer works best), cream the butter and shortening. Beat until you can no longer distinguish the butter from the shortening, about 2 minutes. Scrape the sides of the bowl 1 or 2 times, while mixing.
2. With the mixer on low, beat in 1 cup of powdered sugar. Mix until the powdered sugar is entirely incorporated, then beat in a 2nd cup of sugar. Scrape the sides of the bowl, as needed.
3. When the 2nd cup of sugar is completely mixed in, add the puree, vanilla, and salt. Beat until the mixture is an even shade of pink, and all the ingredients are incorporated.
4. Repeat step 2, to mix in the remaining sugar.
5. When the sugar is entirely incorporated, increase the mixer speed to medium-high. Beat for about 10 minutes, or until the frosting is very light and fluffy.
Notes
*To make the raspberry puree, blend about 1/2 cup fresh or frozen (and thawed) raspberries in a blender or food processor. Pass the puree through a fine sieve, to remove the seeds.
http://www.veganmotherhubbard.net/