I recently made vegan herb ricotta, as part of a sandwich recipe (coming to the blog soon). That meant buying a bunch of packets of over priced, fresh herbs. I couldn't bear the thought of a single leaf of those herbs going to waste. To avoid my herbs going bad, I returned to my lemon basil garlic salt idea, then set to work chopping.
I made four variations on the theme of herbed salt, with different combinations of the herbs I had. Wondering what to do with herb salts? They add a punch of flavor to anything you are seasoning with salt. The salt preserves the fresh flavor of the herbs, so you have the ease of dried herbs, with the brightness of fresh. Just remember not to do a one-to-one substitution for plain herbs, in a recipe, or you'll end up with a very salty dish!
Homemade onion and garlic salt has true onion and garlic flavor, rather than that bitter flavor that commercially made versions tend to have. This is an excellent seasoning for garlic bread, fresh or sautéd vegetables, or as part of a really simple pasta dish.
Onion & Garlic Salt
2014-02-13 16:10:54
Ingredients
2 tbsp sliced green onion
1 tbsp minced garlic
1/4 cup kosher or sea salt*
Instructions
1. Use a very sharp knife to mince the onion and garlic, until it is difficult to distinguish the ingredients from one another. It will be almost a paste.
2. Pour half the salt over the onion and garlic. Continue to chop, until the salt is worked into the onion and garlic. The salt will be wet and clumpy.
3. Cut in the remaining salt, so you have a homogenous mixture.
4. Spread the salt over a dinner plate, and allow the salt to dry overnight, or until there is absolutely no moisture left.
5. Store the dried salt in a sealed container. It will keep for 9-12 months.
Notes
*Do not use iodized table salt in this recipe. Kosher and sea salts have better flavor. More importantly, they both have a texture that matches the minced herbs.
http://www.veganmotherhubbard.net/
Rosemary and citrus flavors were made for each other. Add the freshness of parsley, and you have a combination that will turn roasted vegetables into a special treat. Give an earthy, lemony flavor to seitan dishes. Make popcorn magical. Sprinkle a pinch on sugar cookies, before baking for an unexpected, but perfect, flavor.
In the fresh herb salt, you'll find parsley (the classic palate cleanser), dill (my favorite herb of all time) and thyme (for a little depth). This salt will bring out the brightness of steamed vegetables or contrast nicely against grilled veggies. Tofu scrambles, pesto, biscuits, risotto, mushroom dishes will all benefit from this combination.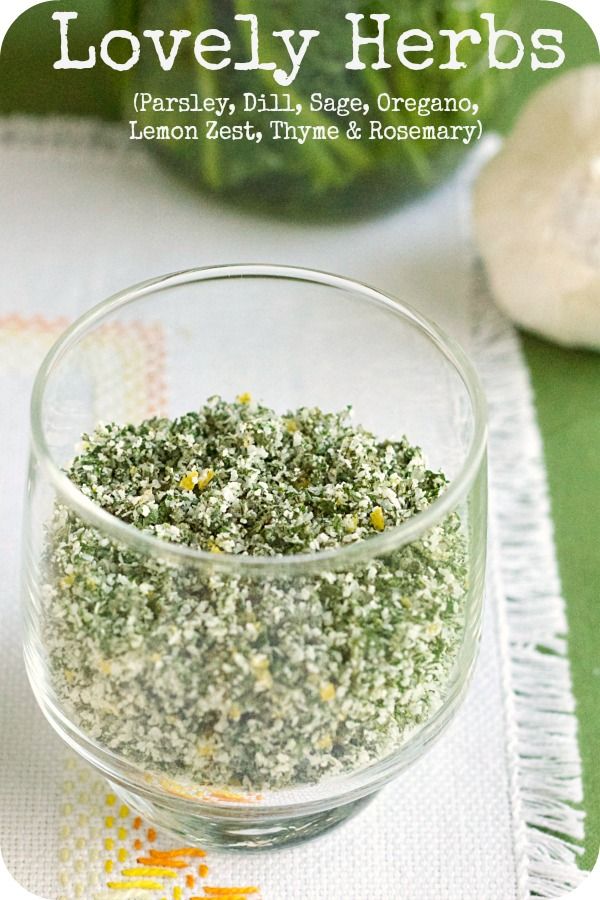 Elements of fines herbes and herbes de Provence combine in the mixture I called lovely herb salt. Another appropriate name? Everything-but-the-kitchen-sink salt would work. This is the salt that make oil and vinegar into a fantastic vinaigrette. It would be a lovely seasoning for beans, braised tofu, homemade veggie burgers, or homemade sausages.