I'd like to say Steve and I celebrated our 7th anniversary on Monday, but it was more like we survived our 7th anniversary. It was a rocky day for the two of us and for the kids. And the eats were dismal. I warmed up some leftovers, threw a pile of greens on top, and ate it in front of the tv (I watched my new obsession, Scandal, in case you were wondering). I don't even know what Steve scrounged up.
To make up for our lackluster day, I promised a proper anniversary dinner for tonight. Well, it's almost 2:00pm, and thus far I've come up with a cocktail and dessert. If the drinks and dessert are good, it doesn't matter what happens in between, right? At this point, it's quite possible the actual dinner is going to be frozen French fries and a salad. Oops. Let's hope Steve doesn't read this, until after supper.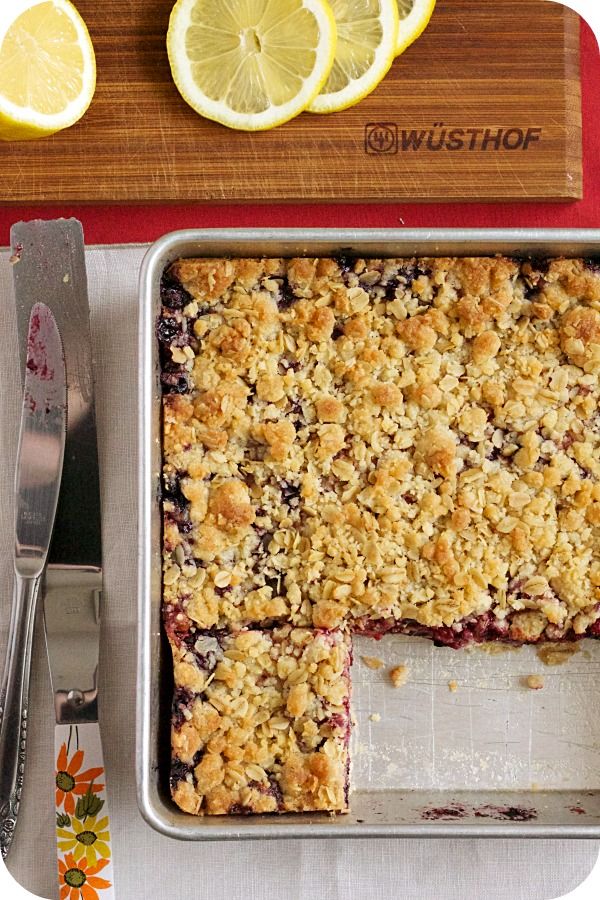 I had ideas. I considered making a lasagna, but that's kind of my default celebration dinner. Boring. I thought about a perfectly cooked stir fry, but fresh vegetables are at a premium right now. My last idea was fondue. I never got around to buying the ingredients for it, so that's out.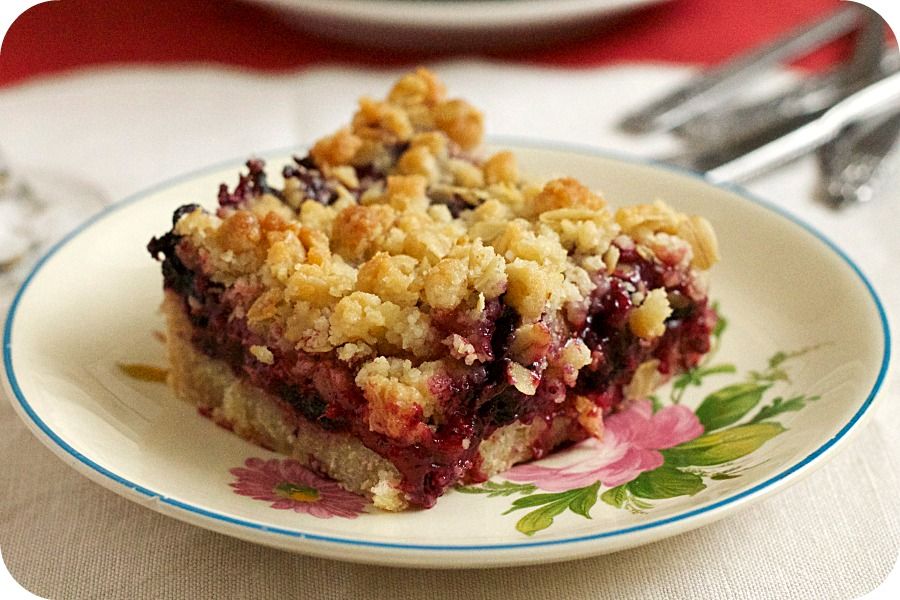 My current plan is to rely on the improv cooking skills that my mom taught me. And if disaster strikes, at least we'll start strong, with Salty Dog Margaritas (recipe later in the week). Then we'll end on a sweet note, with delicious Berry Crumb Bars. Wish me luck!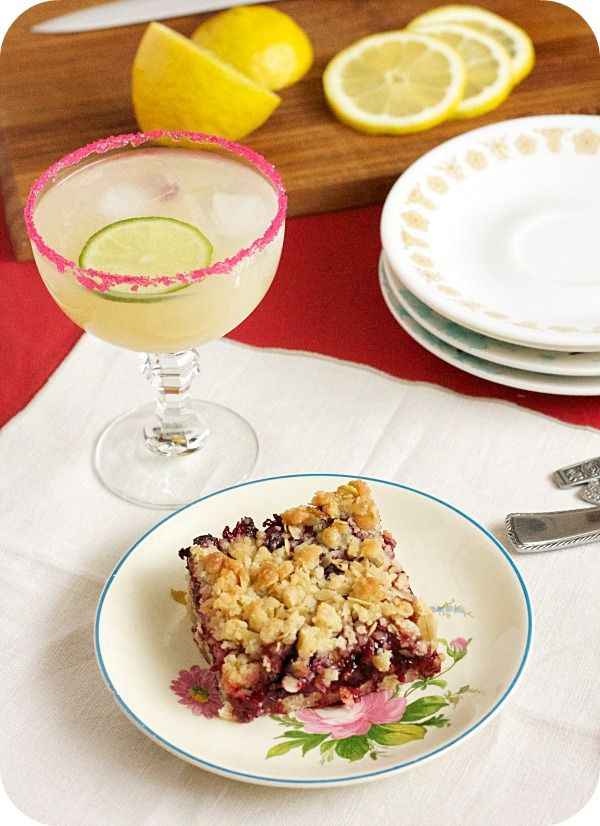 Berry Crumb Bars
2014-02-05 13:03:37
A dessert bar with a slightly chewy crust, fragrant berry filling, and crisp crumb topping.
The Berry Filling
2 cups fresh or frozen strawberries*
1/2 cup granulated sugar
1 tbsp lemon juice
1 1/2 cups fresh or frozen blueberries (if using frozen, thaw first)*
1 tsp finely grated lemon zest
1/4 cup all purpose flour
The Crust and Crumble
1 1/2 cups granulated sugar
1 1/2 cups all purpose flour
1 1/2 cups whole oats
1/2 cup + 1 tbsp oat flour**
1/2 tsp kosher salt
1 cup vegan butter, melted
1 tbsp lemon juice
To Make the Filling
1. In a skillet or sauce pan, combine the strawberries and 1/2 cup of sugar. Place over medium heat, and simmer until thickened; about 12 minutes. Use a potato masher or the back of a slotted spoon to smash the berries.
2. Allow the strawberries to cool about 10 minutes, then stir in the lemon juice.
3. Toss the blueberries, zest, and flour together, in a medium sized mixing bowl.
4. Gently fold the strawberry mixture into the blueberries, so the berries are evenly combined.
To Make the Crust and Crumble
1. Preheat oven to 375 degrees. Thoroughly grease an 8x8 inch cake pan.
2. Stir the dry crust ingredients together, in a large mixing bowl.
3. Use a fork or wooden spoon to stir in the butter and lemon juice. Mix until the ingredients are evenly incorporated.
4. Measure out 2 loosely packed cups of the crust mixture, and set aside.
5. Pour the remaining mixture into the cake pan, and press firmly, to create a crust.
6. Bake the crust for 10 minutes.
Assemble the Bars
1. Gently spread the berry filling over the baked crust. Be careful not to disturb or break the crust, while spreading.
2. Sprinkle the reserved crumble over the berries.
3. Reduce the oven to 350 degrees. Bake for 30-35 minutes, or until the crumble topping is golden brown.
4. Cool completely, at room temperature, before cutting. Store leftovers in the fridge.
Notes
*If strawberries and blueberries aren't in season, pick frozen, rather than fresh. The frozen berries will impart a fresher, sweeter, and fuller flavor, than out-of-season fresh berries.
**If you have a food processor or a decent blender, you never need to buy oat flour. Just pulse whole oats in your processor, until finely ground. If you make more oat flour than you need, store it in the freezer, for future use.
http://www.veganmotherhubbard.net/