Toddler conversation from yesterday morning: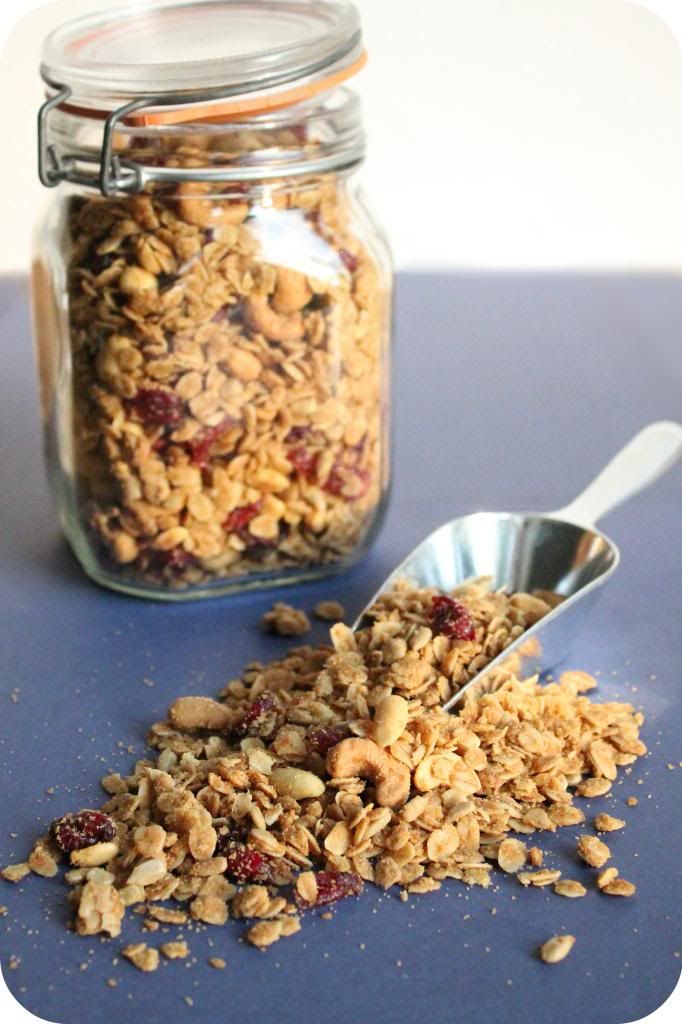 Clarissa said, "What does Pink Baby [a perpetually unclothed pink baby doll] want for breakfast?" Veronica answered, "Maybe some mushroom, garlic, peanut butter, onion tofu."
I've definitely made dishes with all those ingredients in them. Just one more piece of evidence of my daughters' future as food bloggers.
My gals were the inspiration for this granola recipe. Last weekend they fell in love with granola bars. They call them 'nola bars, and they were talking about them all week. How could I resist throwing together a batch of yummy peanut butter granola for them? They love it even more than the 'nola bars they ate on our weekend hike.
Peanut Butter Cranberry 'Nola
2013-10-10 17:13:02
Ingredients
1/2 cup vegan butter, melted
3/4 cup smooth or creamy peanut butter
1 cup packed brown sugar
4 cups old fashioned oats
2 cups nuts*
1/2 cup shelled sunflower seeds
1 cup dried cranberries
Instructions
1. Preheat oven to 250 degrees
2. In a large mixing bowl, whisk the melted butter, peanut butter, and brown sugar together.
3. Add the oats, nuts, and sunflower seeds, and toss to coat all the ingredients well.
4. Spread the mixture on a baking sheet.
5. Bake for 90 minutes, stirring every 15 minutes.
6. When the granola is baked, stir in the cranberries. Leave on the baking sheet, until it is completely cooled.
7. Store in an airtight container.
Notes
*I used 1 cup of peanuts and 1 cup of cashews. You can use any nuts you like, and they can be left whole or chopped.
http://www.veganmotherhubbard.net/