I made six kinds of cinnamon rolls in as many days. It wasn't until day seven that I realized I was missing a most obvious flavor combination: banana nut. How could I be so dense?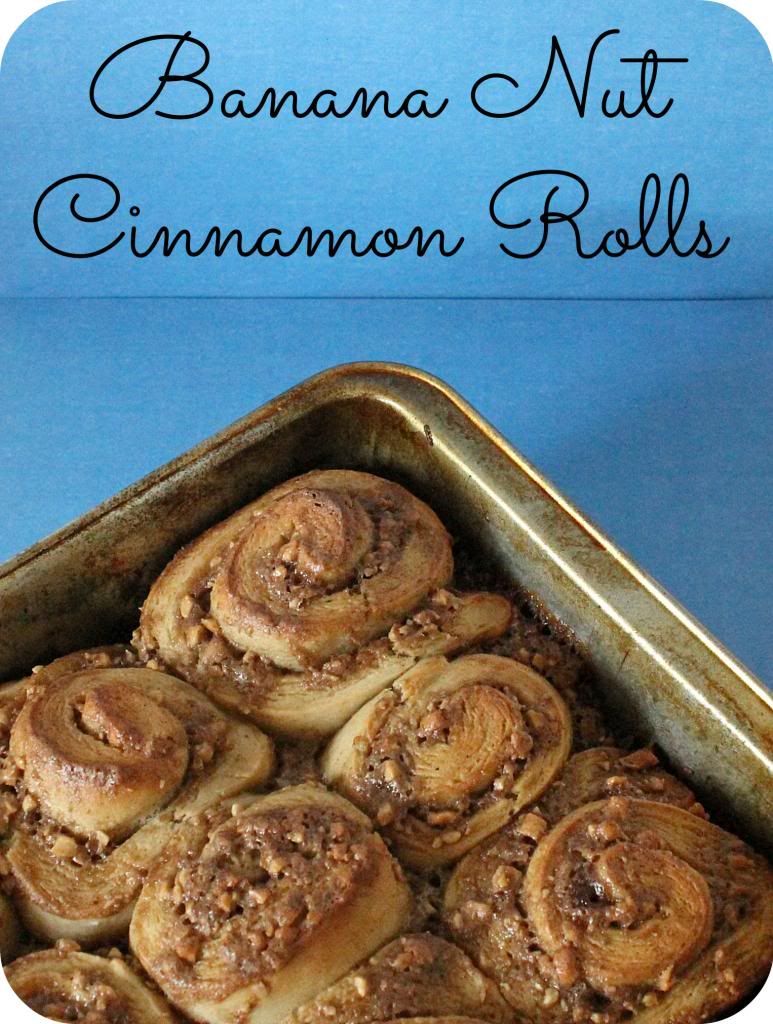 For these rolls, I lightened up on the cinnamon to let the banana and cashew flavors come through. Mashed banana gives you a soft, tender dough. Vanilla cream cheese icing with a little sprinkle of freshly grated nutmeg top of the cinnamon rolls, to make them a breakfast treat that you could serve for dessert with just about any meal.
What flavor has been your favorite, so far? Pumpkin Pear, Blueberry, Apple Spice, Vanilla, or today's Banana Nut?
Banana Nut Cinnamon Rolls
2013-09-27 05:25:54
Dough
1 cup lukewarm water
4 tbsp granulated sugar, divided
1 tbsp dry active yeast
1/2 tsp kosher salt
3/4 cup mashed banana
1/4 cup vanilla non-dairy milk
1 tsp ground cinnamon
1/4 tsp grated nutmeg
4 cups white flour
Filling
3/4 cup mashed banana
3/4 cup granulated sugar
3/4 cup ground cashews or other nuts
2 tsp ground cinnamon
1/4 tsp grated nutmeg
Icing
3 tbsp vegan cream cheese*
1 cup powdered sugar
1 tbsp vanilla non-dairy milk
1 tsp vanilla extract
Instructions
1. In a large mixing bowl, whisk together the water, yeast, 1 tablespoon of sugar, and salt. Allow to rest for about 5 minutes, or just until the mixture is starting to look creamy/foamy.
2. Whisk the remaining sugar, banana, milk, and spices into the yeast mixture.
3. Using a wooden spoon, stir the flour into the liquid ingredients. Continue to stir, until you have a ball of dough (it might be a bit shaggy).
4. Turn the dough out onto a well floured surface. Knead for 3-4 minutes, or until you have an even, smooth ball of dough. You may work as much as a cup of flour into the dough, when kneading, but the dough may still be sticky.
5. Return the dough to the bowl, cover with a clean towel, and place a non-drafty location.
6. Allow to rise for 25 minutes. Preheat the oven to 350 degrees, while the dough is rising. Grease two pie tins, two 8x8 inch cake pans, or a 9x13 inch cake pan.
7. While the dough rises, stir all the filling ingredients together in a medium sized mixing bowl.
8. After 25 minutes, turn the dough out onto your floured surface again. The dough may not look like it rose much. Knead the dough for another minute.
9. Use a rolling pin, to roll the dough out until it is about 24x14 inches and roughly 1/4 inch thick. The size may vary, depending on how much additional flour you kneaded in. Flip the dough over and add more flour to the surface, as necessary, to keep the dough from sticking to the work surface. This dough is on the sticky, soft side. Be patient and handle gently.
10. Gently spread the filling mixture evenly over the dough. Be careful not to tear the dough. Keep the filling about 1/2 inch from the edges.
11. Roll the dough, from the long side, to create a log (like a jelly roll).
12. Cut the dough into 16-18 even slices, using a sharp, serrated knife. Place the rolls in your greased pan(s). It's okay if they fit snuggly and are touching in some places. This will result in soft cinnamon rolls.
13. Bake for 35-38 minutes, or until the tops of the rolls are golden brown and a bit crisp.
14. While the rolls are baking, make the icing. In a medium sized mixing bowl, whisk the sugar into the cream cheese. It will be very stiff at first, but will quickly become gooey and the sugar will incorporate.
15. When the cream cheese and sugar are completely mixed, whisk in the milk and vanilla.
16. Cool the baked rolls, in the pan, for 2-3 minutes. Then drizzle or spoon the icing over the still hot cinnamon rolls. Garnish with a bit of freshly grated nutmeg. Serve warm
17. Refrigerate leftovers.
Notes
*I used Tofutti Non-Hydrogenated Better than Cream Cheese, which worked beautifully.
http://www.veganmotherhubbard.net/