My Meatless Monday recipe today is for vegan lasagna. It's loaded with veggies. And while it takes quite some time to prepare and bake (like any traditional lasagna), it is far from difficult. It is a great meal to make on Sunday and serve for supper on a Monday (or later in the week).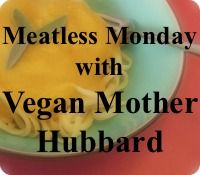 Now before you race to your kitchen to start making lasagna, take a minute to link up your recipe and check out the others, too!
Veg Lasagna
3 cups thinly sliced onions
4 tbsp olive oil, divided
2 1/2 tsp kosher salt, divided
1 medium head of cauliflower
1 pound firm or extra firm tofu, drained and mashed
1 cup plain, non-dairy milk
1/4 cup nutritional yeast
1 tsp dried basil or 3 tsp minced, fresh basil
1/4 tsp dried thyme or 1/2 tsp fresh, minced thyme
1/2 tsp garlic powder
1/4 tsp pepper
2 cups tightly packed chopped or sliced fresh spinach*
minced garlic to taste (I used 1/4 cup)
6 cups of your favorite marinara sauce
12 ounce package meatless crumbles (optional)
1 pound frozen green beans**
2 cups frozen corn niblets
1-2 pounds lasagna noodles
1.Saute the onions, 2 tablespoons of the olive oil, and 1/2 teaspoon of the salt over low heat. Stir occasionally, cooking until caramelized (about 45 minutes).
2. While the onions are cooking, cut the cauliflower into thin (1/4-1/2 inch thick) slices. I cut it into large florets, then sliced from there. In a large bowl, toss the cauliflower with the remaining 2 tablespoons of oil and 1 teaspoon of the salt. Spread it on a cookie sheet and roast at 400 degrees for about 25 minutes. You want the cauliflower to be tender and a bit browned.
3. In a medium-large sized bowl, stir together the tofu, milk, nutritional yeast, herbs, garlic powder, remaining teaspoon of salt, and the pepper. Set aside.
4. Toss the spinach and garlic together. I did so in the bowl that I used to mix the cauliflower and oil, so a bit of the leftover oil coated the spinach.
5. If you are using the crumbles, mix them with 2 cups of marinara sauce. I did so in the pan I cooked the onions in, after transferring the onions to a plate to cool.
6. When all the parts of the lasagna are ready, grease a lasagna pan (or whatever large casserole/roasting pan you typically make lasagna in). Assemble the layers as follows:
1/3 of the marinara sauce
noodles
green beans
tofu
noodles
1/3 of the marinara sauce
onions
corn
noodles
cauliflower
spinach
noodles
remaining marinara sauce
7. Cover the lasagna with parchment paper, then aluminum foil. Bake at 350 degrees for 2 hours. Remove from the oven, and leave covered, to rest, for 20 minutes. Cut and serve.
*You can use an 8 ounce package frozen spinach, that you thawed, in place of the fresh spinach.
**In place of frozen green beans, you can use 1 pound of fresh green beans that have been trimmed and cut in 1-1 1/2 inch pieces.