It's Meatless Monday! It is finally time to share the vegetarian and vegan meals you're eating. The link up is below. Remember, you don't have to link to a blog. You can use whatever social media site you'd like, just be sure that the photo is your own.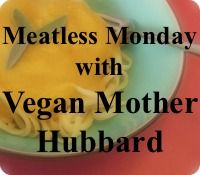 I had hoped to be posting a recipe for vegan Yorkshire pudding today, but I only had time to test my recipe twice last week, and it still needs work. Instead, I cleaned out my fridge and created a great soup recipe.
If you'd like an endorsement for this soup, know that Clarissa and Veronica were begging for bites while I was trying to photograph it. When I was done with the pictures, they polished off the bowl in just a couple minutes. This is a great, satisfying soup. It's hearty, and has lots of protein to keep you feeling full for a long time. It's also really flexible. You can sub in diced squash in place of the sweet potato or any nut or seed butter in place of peanut butter. Rather than seitan, you could use tofu or your favorite prepared veg protein. If you don't have quinoa on hand, you could throw in lentils, barley, split peas, millett...
Sweet Potato, Seitan, and Quinoa Soup
1 tbsp oil or butter
1 cup diced onion
2 cups diced sweet potatoes (small, bite-sized pieces)
2 cups sliced carrots (fresh or frozen)
2 cloves garlic, smashed and roughly chopped
6 cups veggie broth
2 cups water
1/2 cup chopped, sun-dried tomatoes
1 tbsp tamari, soy sauce or Braggs
1 tbsp tomato paste
1 tbsp peanut butter
1 tsp ground mustard
1 1/2 cups chopped seitan or other fave veg protein
1 cup cooked quinoa*
1 can beans, drained and rinsed (I used great northern)
1 cup diced tomatoes
1 tbsp minced parsley
pinch of dried thyme
2 cups chopped greens (I used spinach)
salt and pepper to taste
In a large soup pot, over low-medium heat, warm the oil and saute the onion until it is translucent, about 5-7 minutes. Add the sweet potatoes, carrots, garlic and about 1/2 teaspoon of kosher salt. Saute another 3-4 minutes. Add the broth, water, sun-dried tomatoes, tamari, tomato paste, peanut butter and mustard. Bring the pot to a gentle boil and simmer for 5-6 minutes, until the sweet potatoes and carrots are getting tender. Add the remaining ingredients, except for the spinach and simmer until the sweet potatoes are completely cooked. If you keep the pot at a gentle boil, the soup can be ready in as little as 10-15 more minutes. Or you can leave the soup over low heat for as long as a couple hours. Add the greens 3-5 minutes before serving and season with additional salt and pepper to taste.
*If you don't have cooked quinoa on hand, you can use 1/3 cup dry quinoa, but be sure to add an additional cup or so of water or broth.