Veronica would like to make you lunch.
It's been more than a week since I've posted a recipe. I could blame that on the holidays, the dozens of cookies leftover from Christmas baking, or potty re-training. No matter why, I promise to get back on track, starting with a new recipe for Meatless Monday. If all goes well with testing this weekend, my first Meatless Monday recipe of 2013 will be for Yorkshire pudding, just for my sister Kristie. If that doesn't pan out, I'll still have a fun, new recipe to share to help you join the Meatless Monday festivities.
Vegan Yorkshire Puddings Take #1
About the
challenge and link up
:
1. You don't need to be a blogger to participate. All you need to do is publish a photo of one or more of your veg meals on a social media site (Facebook, Twitter, Photobucket, Flickr, Instagram, your blog, or any other) and link to your post.
2. You don't need to eat vegan to take part. I wish the whole world were vegan, but this project is just about going meatless at least one day a week.
3. If you're looking for vegan recipes to try, take a look at my updated
recipes and menus page
. It's looking great!
4. For more inspiration or ideas, feel free to follow me on
Facebook
,
Twitter
,
Pinterest
or Instagram (skohlmann). I'll be sure to share your photos and posts on those sites, too!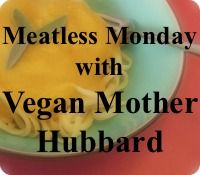 Now that the housekeeping is done, here's a smattering of happy things I've been gathering recently:
C and V fight more than ever, but they are also more loving and generous than ever, too. I love seeing one of the girls bring a toy to the other, when she's upset. Seeing them give each other hugs, hold hands, or ask for one another, when they are apart.
The girls often talk about the moon. A few nights ago, when we were in the car and it was dark out, Clarissa couldn't see the moon and she told us that, "the sleepy moon is at Bubba's." Then, when the moon rose high enough for her to see, she said, "the moon is right there, running away from you." So sweet and silly.
Veronica has started to put her own pjs on at night. Last night she put her undershirt on backward and Clarissa insisted on putting hers on the same way. Steve was helping them dress, while I was doing dishes, and it was super cute to see them each run into the kitchen to show me.
Clarissa's smile will never get old to me.
So tell me what's making you happy. And what are your plans for next Monday? Do you have recipes in mind? Don't forget that you can still send me your favorite recipes, to be veganized. Just email them to sandra.kohlmann@gmail.com.