My friend Rebecca sent me a text message this morning, and it got me thinking about the coming year and what I hope for my readers. I know lots of you are vegan or vegetarian, but lots of you aren't.
For those of you who are meat eaters, I challenge you to go meatless on Mondays in 2013. If you're vegetarian, I challenge you to go vegan on Mondays. To help you take on this challenge, I have some resources for you:
1. For details on why to go meatless on Mondays, and for recipes, take a look at the official website for
Meatless Monday
.
2.
Finding Vegan
is a great compilation of vegan recipes, with new ones posted everyday.
3. You can find all of my recipes on my
Recipes and Menus page
.
4. Some other vegan blogs that I like:
Blake Bakes
,
The Post Punk Kitchen
,
Oh She Glows
, and
Three and a Half Vegans
.
5. My favorite part of the challenge is the part where I help you veganize your recipes (this was all Rebecca's idea). Each Monday, I'll publish a vegan version of recipes that you submit. If you'd like me to veganize your favorite omnivorous recipe, email it to me at sandra.kohlmann@gmail.com. If you don't have a specific recipe, but there is a non-vegan dish you love, email that info to me, too, and I'll create a vegan version for you.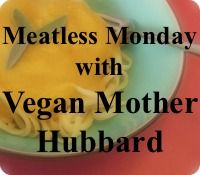 In addition, if there is sufficient interest, I'd love to revive my Meatless Monday blog hop, so we can all share our vegan and vegetarian recipes. Leave me a comment and let me know if you're up to the Meatless Monday challenge. While you're at it, tell me if you'd like to join in on a weekly link up to share your meat-free recipes.
What are you waiting for? Get commenting! And gather up your recipes and send them my way, so I can get to work for you!