I don't have a picture of my recipe for today, because I haven't made scrambled tofu in a couple weeks. However, I could make this recipe in my sleep. If you are vegan, you probably already have a favorite tofu scramble recipe, so this is just another to add to your list of go-to meals. If you are omnivorous, you may not eat tofu (yet) or you might not be familiar with just how satisfying scrambled tofu can be, so you should most definitely give this recipe a try.
Scrambled Tofu
1 medium onion, finely diced
2-3 cloves of garlic, minced
1 pound of mushrooms, cleaned and sliced
1 pound of firm or extra firm tofu, drained and chopped into small cubes, crumbled, or mashed
2 tbsp
Braggs liquid aminos
or tamari
2 tsp
Marmite
or
Vegemite
(optional)
3 tbsp
nutritional yeast
1-2 tsp dijon mustard
olive oil for sauteing
salt, pepper, and crushed red pepper to taste
Saute the onions in a little bit of vegan butter or your favorite oil, until they are starting to brown and carmelize. Add garlic and mushrooms and cook over medium heat until the mushrooms have started to brown a little bit. Add the rest of the ingredients. Mix well and cook until the tofu is warmed through. The longer it cooks (over low heat), the better it will taste. This dish is great on its own, or over rice, potatoes, or toast. It is good for breakfast or for a fast supper.
****This recipe is an approximation. You may want to increase or decrease the amounts of the seasonings to match your tastes. Typically, when making scrambled tofu, I start w/onions and garlic, then throw in the tofu and whatever else is in my fridge. Fresh or canned, diced tomatoes make a great addition. Roasted garlic is wonderful to use. Bell peppers, shredded carrots, chopped spinach, zucchini (add when sauteing the mushrooms), or really any other veggies you like make it more delicious and nutritious. Sometimes I make the dish a little creamier by adding vegan sour cream, plain soy yogurt, or plain soymilk. Any herbs and spices can be added to the mix. I often add dill, basil, parsley, cumin, paprika, and other things. For those of you who don't usually cook with tofu, think of things you might use to season chicken or that you might mix into an omelette. Scrambled tofu is just a quicker, easier, and more forgiving protein than chicken and eggs!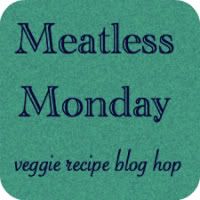 Since I don't have a photo of the scrambled tofu, here's a snap of Clarissa showing off her big hair:
Don't forget to link up your vegan or vegetarian recipes and take a look at the recipes others are sharing, too! Happy Meatless Monday!